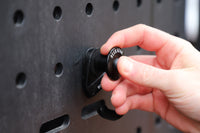 Quick Release Pins
The all new Reeb Gear quick release pins are designed to be used on Sherpa panels or similar attachment panels to allow the easy addition and removal of attachment points. With four different hook options, it's easy to find the perfect attachment for your needs.
Shop Now
By tailgaters, for tailgaters
The flag pole bracket is the perfect solution for mounting a flag pole to your Owl Van Sherpa panel or any other panel system that uses 1/2" mounting holes.  The flag pole bracket can also be used to extend your Starlink above your van.